http://mlb.mlb.com/video/play.jsp?content_id=10842801
Last night, the Cardinals and Cincinnati Reds battled for first place in the National League Central division. Literally. Before the first batter for the Reds came to the plate in the bottom of the first inning, a 7 minute old-fashioned, bench-clearing brawl ensued. Not too many punches were thrown but tensions were sky high and tempers hotter than the 95 degrees on the field. The battle began on Monday when Reds second baseman Brandon Phillips
mouthed off to a local reporter about how much he hates the Cardinals
. Phillips used some choice language and didn't mince words. Of course, the St. Louis Post and other local media picked up the comments and ran with them and the blogosphere was alive yesterday with the battle cries. Oh, I love a good baseball fracas.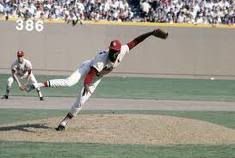 Recently, I spent several hours researching the first baseball fight I ever saw. I knew the fight involved the Cards and the Reds and Bob Gibson and happened in 1967 or 1968. Finally, I found the details. The fight occurred on July 3, 1967. My family was at the game and I remember asking my Dad what was going on, why all the players were on the field fighting instead of playing the game. That fight lasted twelve minutes and stadium security helped subdue the hot tempers at the time. Last night, listening to the radio broadcast, long-time Cardinal broadcaster and former player Mike Shannon was asked a question by a listener, "What is your favorite fight you were involved in?" Shannon answered, "Well, it involved the Reds and happened in 1967 or 1968 and included a couple of Hall of Famers." He never returned to the details but I knew he was talking about the same fight.
By the way, the Cardinals responded to the tension last night by winning 8-4 to move into a first place tie with the Reds. Yadier Molina, the Cardinals catcher whose interaction with Phillips started the fight last night, hit a solo home run in the second inning, his fifth homer this season.
Ah. Baseball. Pennant races. Regional rivalries. Summer fun!